Durian Cream Cake
recipe by
Aunty Yochana

I have always wanted to bake durian. But you can only get durian durian seasons.
My hubby bought some durian back last night and i decided bake one this morning- Durian Cream Cake!

Durian Sponge cake
250 gm. Optima Flour
1 tsp. ovalette
70 ml. Corn oil
4 nos. cold eggs
60 ml. water
50 gm. durian puree
1 tsp. Durian paste (optional)

Durian Cream
300 gm. Durian meat - mashed
100 gm. Non-Dairy whip cream

Some whipped cream for covering whole cake
Slice almonds - roasted - for the sides

Method
1. Mix all the ingredients together in a mixer bowl except cornoil and durian
puree.
2. Whisk till thick.
3. Add in some cornoil into durian paste and mix till well combined.
4. Fold cornoil mixture into egg mixture and then pour into a 9" round tin and
bake at 180C for about 35 to 40 mins.
5. Leave cake to cool on a wire rack and then slice into 3 layers.



Filling
1. Stir whip cream into the mashed durian and then spread onto the sliced cakes
and sandwich them together.
2. Cover cake with whip cream, cover the sides with sliced toasted almonds and
then decorate cake as desired.
Results

The Cake


The filling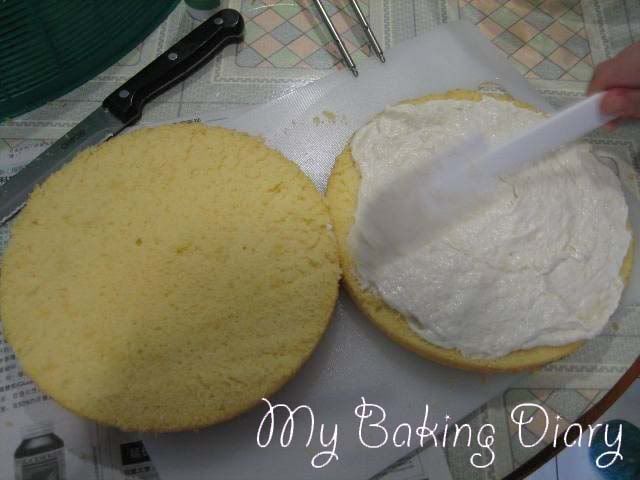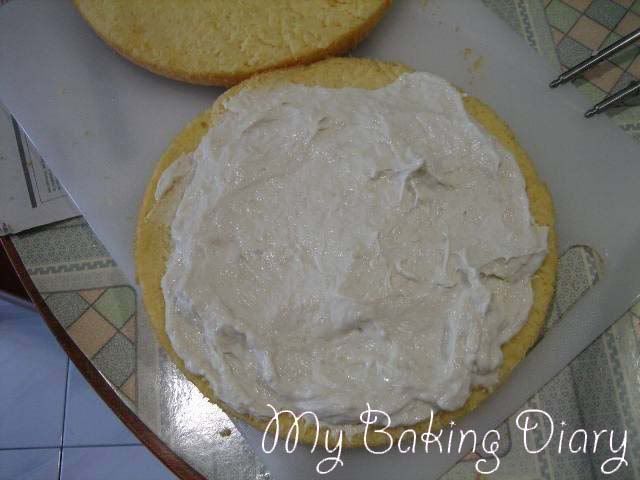 The Finished Product