This is the Tiramisu i make for my mum, love by all. I make it in a spring form. To ease my job, i think i will just do it in a Tupperware next time.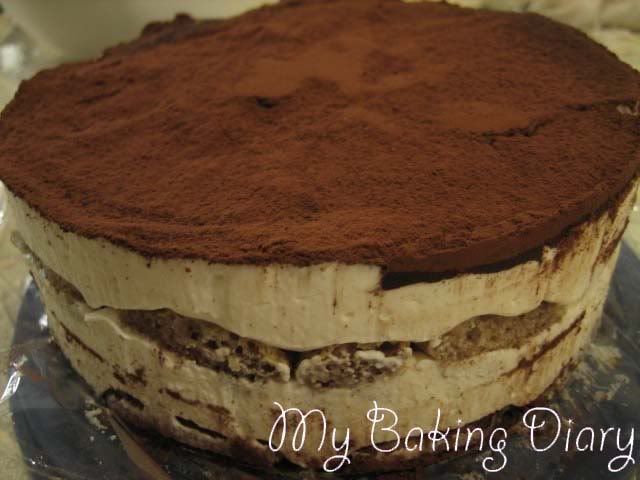 My family members fell in love with this "Pick Me Up" In fact this tiramisu is perfect in any occasion and can be eaten at any time.
Indulge yourself today.
What You Need
44-48 sponge fingers
cocoa powder / grated chocolate

Syrup:
180 ml water
180 ml milk
*60ml Bailey's Liquor (u can either use all120ml Baileys or Kahlua, up to you)
*60ml Kahlua Liquor
*50 ml rum (optional, but with rum it taste better)
1 teaspoon vanilla
2 Tablespoons melted chocolate

Cream:
[A]
450g mascarpone cheese (I use Philadelphia Cream Cheese)
100g Sugar
1 teaspoon vanilla
30 ml Bailey's Liquor

[B]
450 non diary whipping cream
100g Sugar

For the syrup:
Place all the ingredients into a measuring cup and warm 30 seconds in the MW. It doesn't need to be hot, just warm.

For the cream:

1. Beat cream cheese with sugar , then add in vanilla and baileys
2. Beat whipping cream with sugar (until sugar is dissolved, make sure you don't mix it too much as whip cream can turn to curds if over beaten)
3. Fold Whipped cream to cheese mixture


Assemble the cake

Place the sponge finger at the bottom

Sprinkle with syrup

( i use 2 tablespoon for each sponge finger)

Dust with cocoa powder

Layer with cream mixture

Continue with sponge finger, syrup, cocoa powder


For the final top, you can dust with cocoa powder or grated chocolate