Lemon Cream Cheese Cupcake
recipe adapted from "Tempt Cupcakes to Excite by Betty Saw"

Before Icing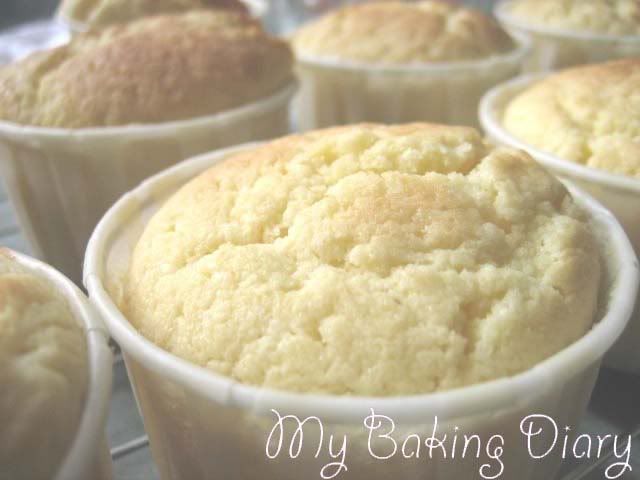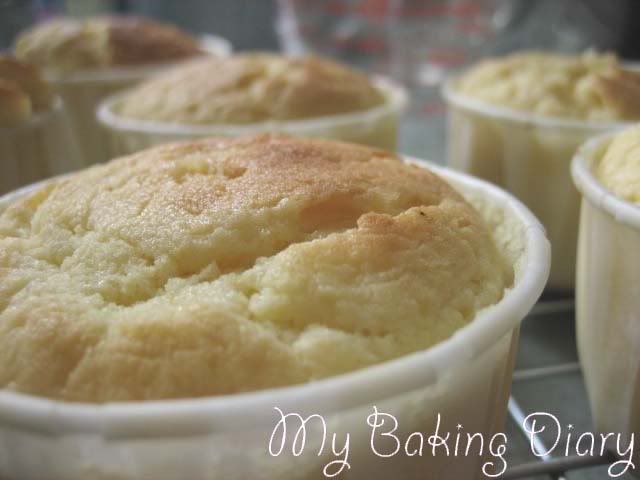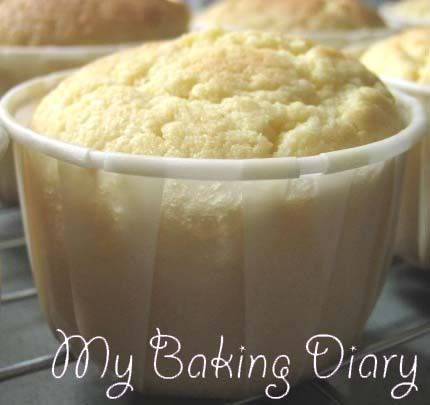 After Icing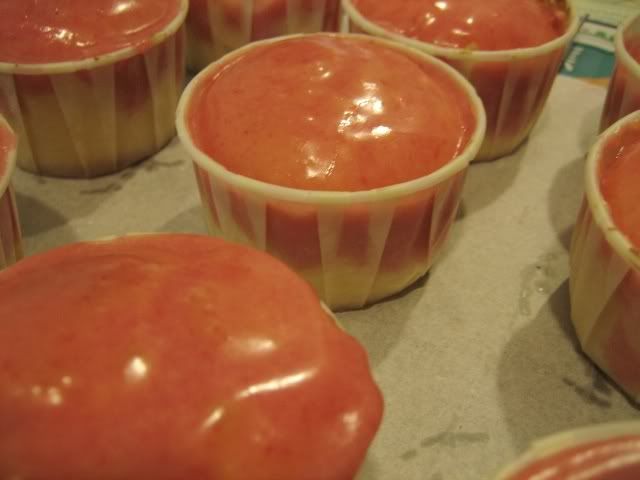 This cupcake is just perfect. The texture and taste is soooo good. My family member loves them so much! You can skip the lemon galze as the cake taste soo good on its own. I modified the recipe a bit here. I replaced the flour by using "Cake Flour"

Ingredients:
(Makes 6)

65g cake flour
1/4 tsp baking soda
1/4 tsp baking powder
65g cream cheese, at room temperature
68g butter, at room temperature
70g castor sugar
1/2 tsp grated lemon rind
1 nos. medium (Grade B) eggs, at room temperature
1/2 tbsp lemon juice

Lemon glaze:
20g icing sugar sifted
1/2 tbsp lemon juice
6 large paper cups

Method


Line muffin pan with paper cups.

Sift cake flour, baking soda and baking powder into a mixing bowl. Set aside.

Cream butter and cream cheese until light and creamy for 8-10 minutes. Add castor
sugar and continue to mix until light and fluffy.

Beat in eggs, one at a time. Stir in lemon rind and lemon juice.

Finally, fold in sifted flour in (1).

Divide batter evenly into paper cups. Bake in preheated oven at q 160 degC for 20
minutes

Remove the pan from the oven. Rest for 10 minutes before removing the cupcakes
from the pan Cool on wire rack.

Meanwhile, prepare lemon glaze. Heat lemon juice in microwave on high for 15 seconds. Pour into sifted icing sugar and whisk till smooth. Fill lemon glaze into a piping bag and use a writing nozzle to pipe the glaze onto cupcakes. Decorate with lemon zest and other decoration of your choice. Chill before serving.


Variations
To make chocolate cheese cupcakes, melt some dark chocolate and omit the lemon juice.



Strawberry Icing
2 Tbs strawberry pure (sieved)
100g Icing Sugar

Method
Microwave the strawberry puree for 2 minutes .
Strir in Icing sugar.
Use immediately.