Strawberry Cupcakes

I have been experimenting with Strawberry Cupcakes a while. Nothing turns good. As fresh strawberry is juicy, often when added into the batter will make the cupcake heavy and wet. So the recipe for "adding fresh chopped strawberry" should not have too much liquid (not to overload the batter).



Valentine's Day Cupcakes


Got some strawberries and want to make strawberries cupcakes with a different. Almost a Valentine Cupcakes. Place a slice of tiny piece on the cupcake batter make nice appearance. But the sourness of the strawberries juice did a little put off. DH suggest to drop the strawberries piece while MIL suggest to cut the strawberries into tiny pieces instead. I think MIL's idea is really good will try that on next baking.

This round of baking strawberries cupcakes, i did some changes. I got the recipe from "Cupcakes Doctor" and replace all strawberries puree with milk. An unusual cupcakes which added "vanilla instant pudding". For nice pink colour, i think i'll get a strawberries flavour gelatin next.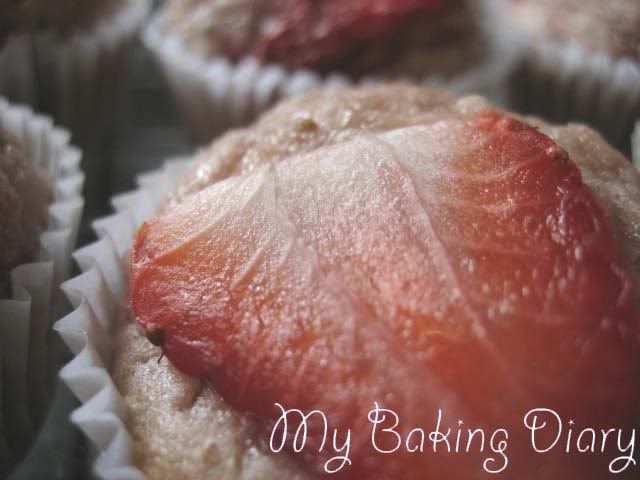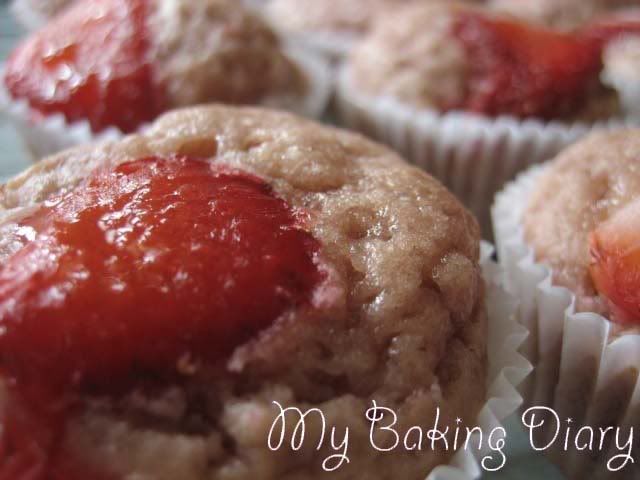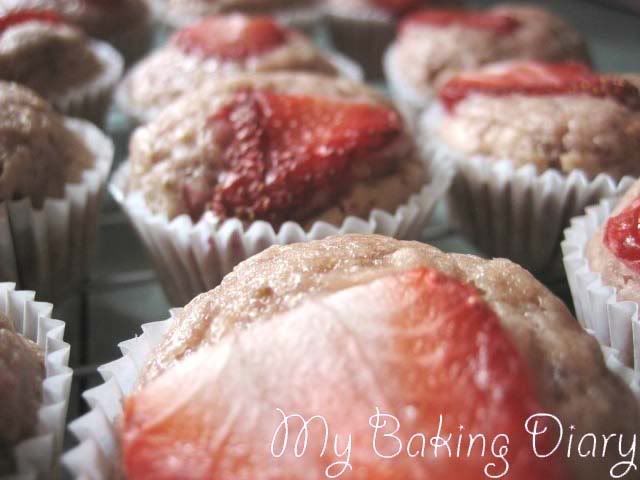 Just tried out the Strawberry Cupcakes from "Cupcakes Galore".This round i substitute the butter milk with 70% of strawberry puree (sieved) . The cupcakes turn out good as it contains both the strawberry puree and chopped strawberry. The puree gives the natural pink colour to the cakes while teh chopped strawberry gives the cake a hint of juice . So that the cake will not be too dry when consuming.

Here's the result.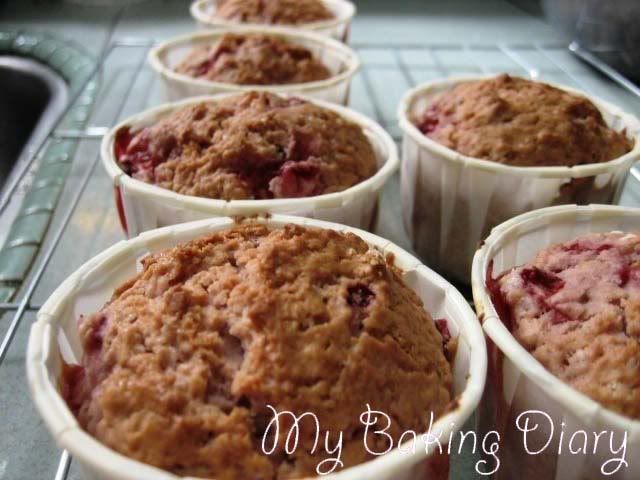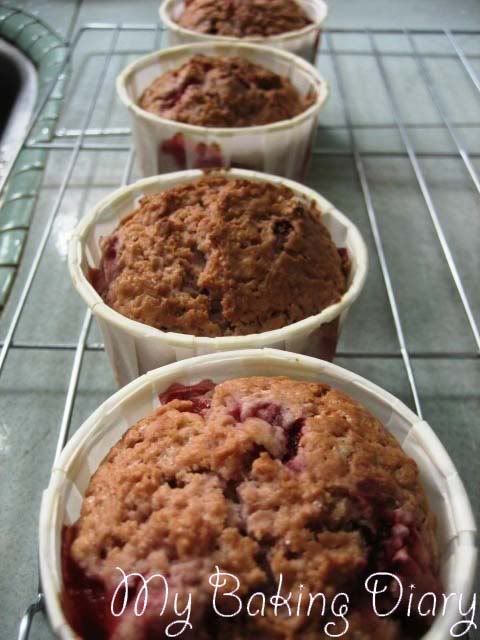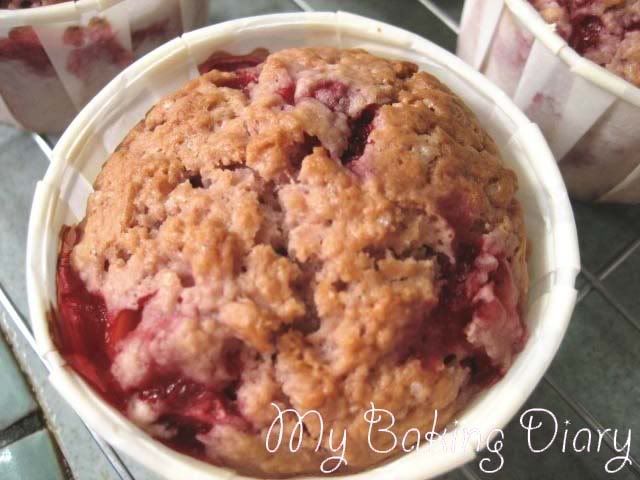 Red For Strawberry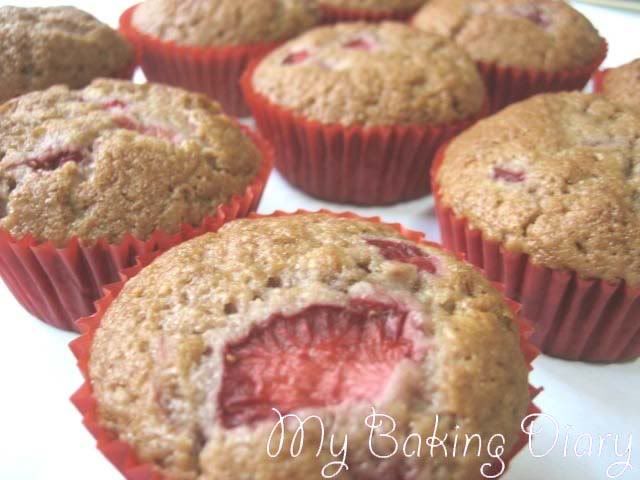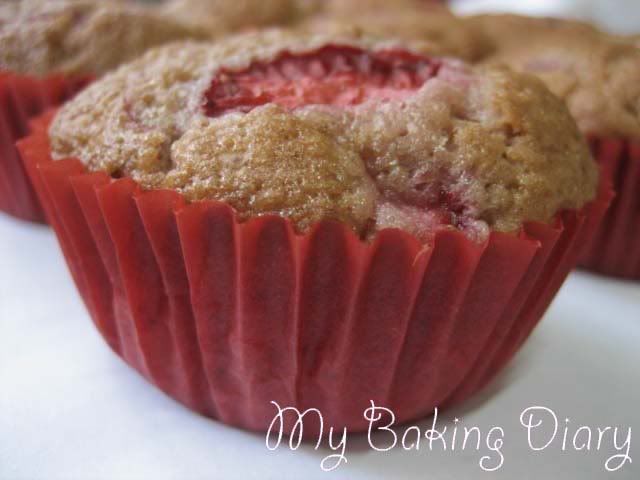 Yogurt Cupcakes


There is one mango yogurt has been sitting in my fridge for quite sometime. So i decided to make use of it. Got the recipe from "Cupcakes Galore" The cupcakes turn out dry and dense like a rubber. I dun think i over beat or over baked them. I think there is really wrong with the recipe. Anyone wanna try out pls reduce the flour.


Virgin Strawberry Muffin

After my success in my Orange muffin, i use the same recipe for the strawberry muffin. The only changes i made was i add 2 tbs of milk powder and omit the butter.

Bought some strawberry and has been laying in the fridge for almost a week. I decided to turn it into something everyone loves ~ Muffin!

Recipe
100g self raising flour
100g sugar
2 tbs milk powder
120ml strawberry juice ( i use fresh strawberry and blend it)
50ml oil
1 egg

Method

1. Mix the oil and the sugar
2. Add the egg and mix well
3. Add the strawberry juice
4. Fold in the milk powder and self raising flour until just combined
5. BAke at 160 degree for 20-30 minutes.

Notes
I did a mistake by adding chopped strawberry into the muffin batter. The result, muffin becomes watery due to the strawberry chunks!. Should have omit the strawberry chunks all together.

Get ready for your house to smell like a strawberry!!