Orange Chiffon
I was baking some chocolate cake when MIL ask if I'm making any chiffon today.Knowing that she's a lover for chiffon cake. I make this for her. At first wanted to make Pandan Chiffon, but forgot to buy coconut milk on my way back. So i use whatever is available in the kitchen ~ Yes orange!



Orange & Lemon Chiffon Cake


Recipe from Joy of Making Desserts by Shadow Kwan's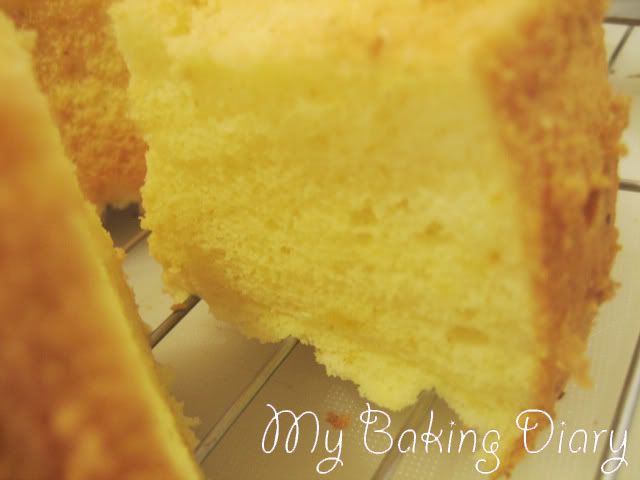 I remember the first time baking this recipe, i used 8" round pan. The cake turn out extremely short (about 1" tall) and is a joke to even serve it ~ but taste and texture of cake is good.

This time, i bake them using 18cm tube pan. In fact, this is the most success attempt using this recipe. I omit the lemon juice, as there isn't any.

Verdict
The cake taste is very moist and soft - almost like a cotton cheesecake!

Ingredients:
(A)
80g cake flour
1/2 tsp baking powder salt
60ml orange juice
2tbs lemon juice ( can be omit if dun have)
50ml oil
3 egg yolks
20 g sugar

(B)
4 egg whites
30 g sugar
1/4 tsp cream of tartar

Method:

1. Beat egg yolks with 20 g of sugar until creamy white.
2. Mix in orange juice , lemon juice and oil.
3. Fold in flour
4. In another bowl whisk egg white until foamy then add 30g sugar gradually together with cream of tartar.
5. Put 1/3 of egg white into the egg yolk mixture . Mix in the flour mixture. Add
the remaining egg white. Fold gently to mix well.
6. Bake 175 C for 25-30 minutes
7. Revert the pan and let it cool .