Pandan Chiffon II
recipe adapted from Wen's Delight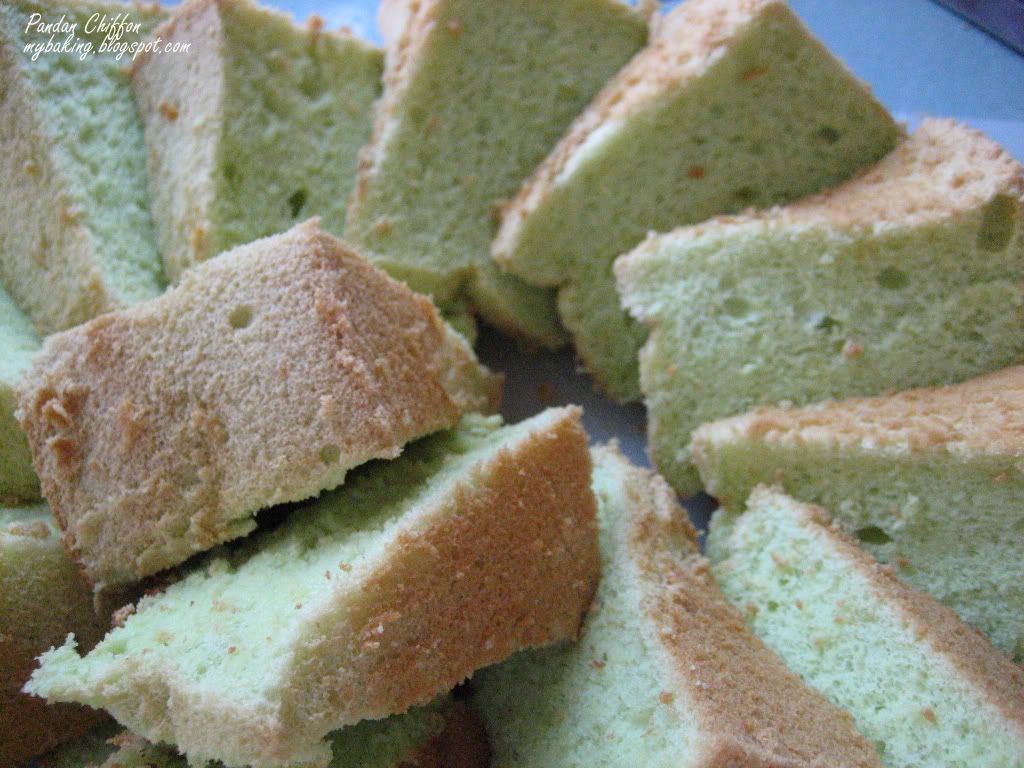 Mine doesn't rise up as high as the author. Coz I'm using the 23cm tube pan. Nonetheless still taste good.
Ingredients:
(A)
5 Egg yolks
60g Sugar
(B)
- Mix well
20g pandan juice
1.5tsp Pandan paste
80g Coconut milk
45g Corn oil
1/4 tsp Vanilla paste
A pinch of salt
(C)
- Sieve twice
75g Plain flour
35g Corn flour
0.5tsp Baking powder
(D)
5 Egg whites
60g Sugar (70g)
1/4tsp Cream of tartar
Method: (For 21-22cm chiffon mould)
Preheat oven at 170 degree C (for my oven) (180degree C)
Part A:
1. Whisk (A) till the egg yolks turn creamy pale yellow colour or till sugar melt.
2. Add in (B) to Step 1 and mix well.
3. Then fold in (C) and mix well.
Part B:
1. Whisk (D) at max speed untill stiff.
2. Add in 1/3 meringue into Part A mixture and mix well.
3. Pour this mixture back to the balance meringue and fold well till the mixture is smooth flowing and glossy.
4. Pour into a clean & grease free 21-22cm chiffon mould and bake for 45-50 mins. Bang the mould before going into the oven to release excess air. To test doneness of the cake, bake until the cake rises high and then starts to shrink.
5. When the cake is cooked, invert the cake to cool. Remove the cake from the cake pan when it is completely cool.