Cashew Nut Chicken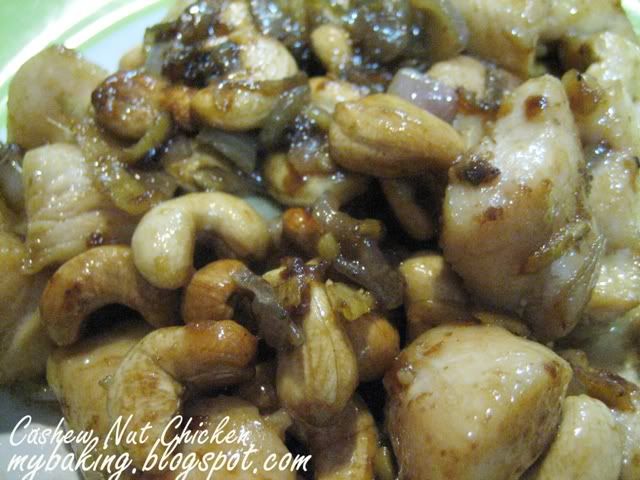 recipe from
Rasa Malaysia
300g chicken breast
green pepper bell
onion
ginger slice
Marinade
[A]
1 tsp baking soda
[B]
1/2 tsp rice wine
1 tsp corn flour
1/2 cup cashew nuts
(i roasted my own cashew nut, with no added oil and salt)
Sauce
1/2 tablespoon oyster sauce
3/4 teaspoon soy sauce
3 tablespoons water
3 dashes white pepper powder
1/2 teaspoon sugar
1/2 teaspoon rice wine
1/8 teaspoon sesame oil
Salt to taste
Method
1. Marinade chicken with baking soda for 15 -20 min. Rinse well and pat dry with towel. Mean while prepare sauce by mix the ingredient [C] and set aside.
2. Marinade with [B] for 15 minutes
3. Heat up wok and sir fry chicken until half cook, remove the chicken
4. Add in 1 Tbs Oil, stir fry onion, ginger slice and pepper belll until full of aroma.
5. Then add in chicken follow by cashew nut and sauce.
Note
The cashew nut can be roast in the oven at 160 C. Lay the cashew nut evenly on tray. Keep stirring with wooden chopstick until turn evenly brown . About 10-15 minutes