Chocolate Marble Chiffon Cake
This method of making chiffon cake is slightly different from my previous chiffon cakes, which requires some steps in beating the egg yolk mixture before folding into egg whites. The result is a very fluffy chiffon cake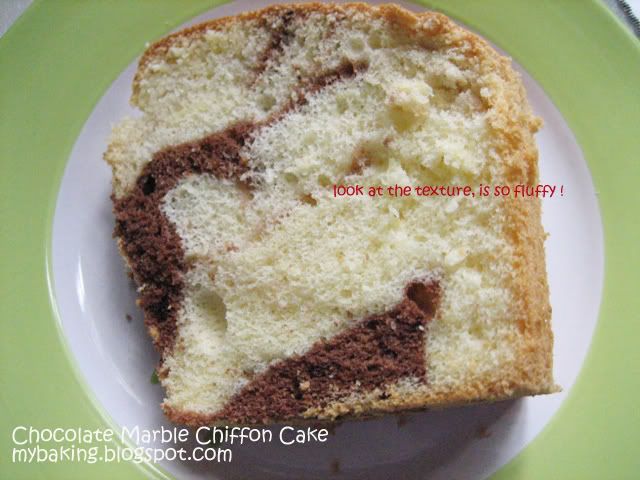 recipe from Cake Keeper Cakes by Lauren Chattman
[A]
2 Tbs Cocoa POwder
2 Tbs Water
1 Tbs Oil
[B]
5 egg yolks + 2 whole eggs
1/2 cup sugar
(I reduced it from 1 cup sugar)
1/2 cup oil
[C]
1 1/3 cup Cake Flour
2 tsp baking powder
1/2 tsp salt
[D]
1/2 cup sugar
1/4 tsp cream of tartar
5 egg whites
Method
Combine [A] and set aside. Combine [C] set aside
Beat egg yolks and whole eggs with mixer on high for 3 minutes or until lighten in colour
With mixer running, add 1/2 cup sugar, steady stream and continue to beat until mixture is light and increased in volume, about 5 minutes longer.
With mixer still running, slowly pour in oil and continue beat for 1 minute.
With mixer on low speed add in flour (3 batch) alternate with water (2 batch). Start and end with flour
Whip egg whites on medium speed until frothy.
Add in cream of tartar and continue to beat on medium speed, pour on 1/2 cup sugar in a slow, steady stream and whip until the whites hold stiff peaks.
Fold 1/4 of yolk mixture into the whites to lighten. Then fold remaining whites into the yolk mixture, gently but thoroughly.
Bake at preheated 165 C for 1 hour.