Shanghai Mooncake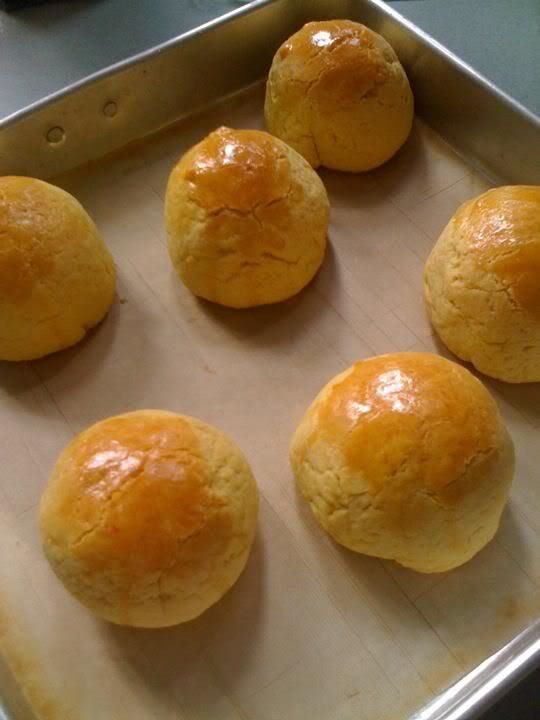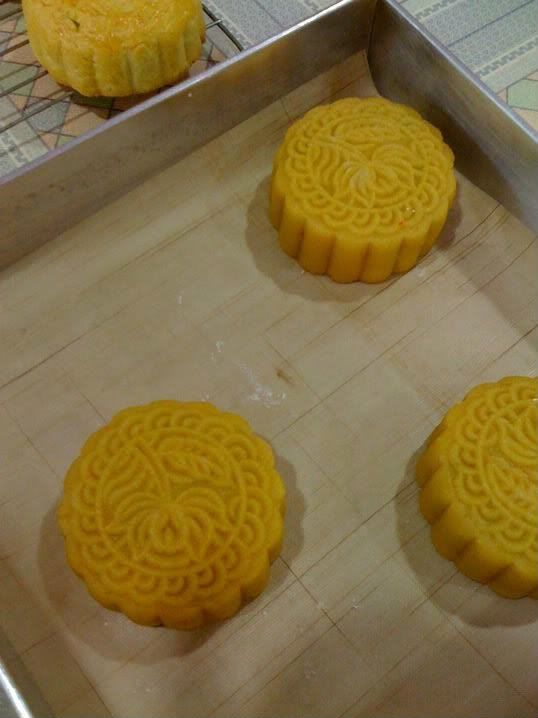 Butterskin Mooncake Recipe
(improved version)
100g butter
100g shortening
40g custard powder
100g Icing Sugar
400g Flour (i use rose flour)
2 eggs (lightly beaten)
Egg wash (egg yolk + some water)
Method
1. Use rubbing method. Rub shortening n margarine
2. Mix in all dry ingredients with finger, until form snowflakes
3. Add in beaten eggs
4. Glaze with egg wash and bake at preheated 180C for 20 min
Notes
Dough ~ 50g, Lotus filling 100g
Shanghai Mooncake
skin, just add 1 tsp of baking powder
Dough ~ 60g, Lotus filling 60g
300g plain flour (I use Rose Flour)
40g custard powder
1 tsp baking powder
80g icing sugar
75g sorteneing
75g margarine
1 eggs (lightly beaten)
Method
1. Use rubbing method. Rube shortening n margarine
2. Mix in all dry ingredients with finger, until form snowflakes
3. Add in eggs
4. Do not knead the dough. Just combine lightly to form a soft dough
5. Let it rest for 30 min. Covered with damp cloth
6. Brush with egg wash (egg yolk + water)
7. Bake at 180 C 15-20 min
Note
This time, the dough is a little on dry side. I need to use a little margarine to shape it
Nonetheless they taste great. Perhaps I should go with 1 1/2 egg?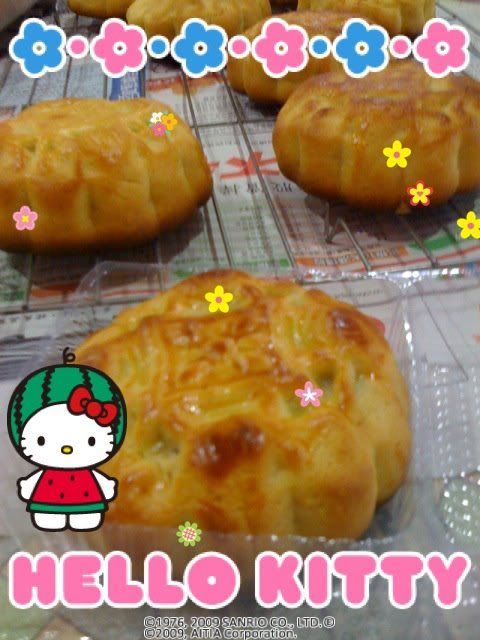 Mooncakes by Alan Ooi
(makes 14 mooncake dough 50g, filling 60g)
280g plain flour (I use 1/2 pau flour and 1/2 plain flour)
50g milk powder
25g custard powder
1 tsp baking powder (reduced from 1.5 Tbs)
100g icing sugar
100g shortening
50g margarine
2 eggs (lightly beaten)
Method
1. Use rubbing method. Rube shortening n margarine
2. Mix in all dry ingredients with finger, until form snowflakes
3. Add in beaten eggs
4. Glaze with egg wash and bake at preheated 180C for 20 min
Note
* I found my dough is little soft and dry. Thus I leave it to chill in fridge for 10 minutes.
* The taste for this skin is very yummy. My only complaint was the bottom of the mooncake get burn