White Chocolate Macadamia Cake
Inspired by our local cake franchiser the Secret Recipe, I try making one by adding white chocolate (500g), whipping cream (200ml) and cream cheese (250g), 1 Tbs gelatin powder. The result is a very dense white chocolate ganache. Is very fulling too. So I've put a note to reduce the quantity of white chocolate and omit the cream cheese for the next trial.Nonetheless, the cake is loves by everyone and gives thumb up (\@__@/)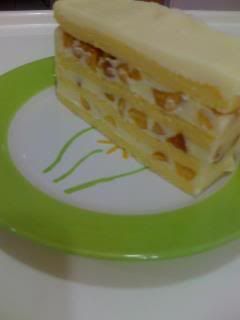 White Chocolate Macadamia Cake
Sponge Cake recipe from
Christine's Recipe
[A]
3 eggs
60g sugar
1tsp ovalette
1 Tbs water
[B]
30g cake flour
30g corn flour
1/2 tsp baking powder
45g oil
White Chocolate Ganache
250g White Chocolate
200ml Whipping Cream
1/2 Tbs gelatin powder + 4 Tbs Water
Method for making sponge cake :
1. Mix all in [A] except water until thick and creamy, then add in water.
2. Add in [B] (sifted)
3. Add in oil
4. Bake at preheated oven 180 C for 15 min
Note :
*the batter of the sponge cake is runny
**I m using 10" x 10" pan size
*I use about 200g of roasted macadamia nut (160 C for 10 min)
Method for making white chocolate ganache :
1. Melt the white chocolate with whipping cream in double boiler.
2. Mix the gelatin powder with water and let the bowl sit in a hot water
until the gelatin completely dissolved.
3. Mix the gelatin into the white chocolate ganache