Pandan Steamed Cake
I have always thought of baking steamed cake but didn't manage to find a proper recipe as most recipe books focus on modern cakes and muffins. While most recipe call for only 3 ingredients (Flour, Eggs and sugar)or sometimes include a Tbs of oil / melted butter. I Finally found one here which uses liquid as well. I substitute the liquid she used with pandan juice.



My 1st Attempt




-Used wrong size pan. I used 9" pan for 2 eggs recipe. So if you're making 2 eggs recipe use smaller pan / small cake.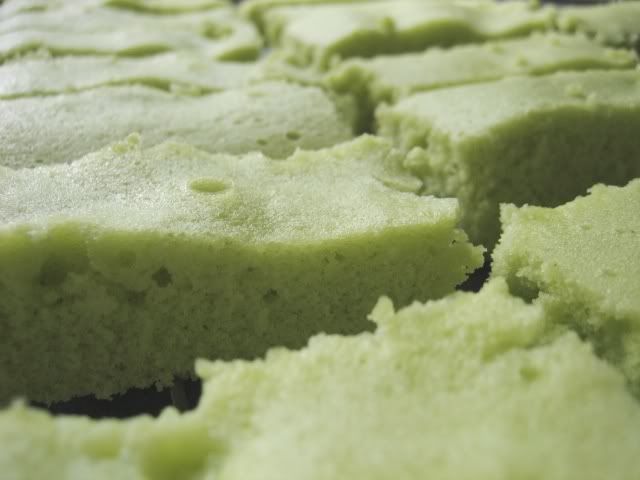 Ugly Surface
While this is the heavy/ uncooked bottom steamed cake. Look at the surface full of pimples :P (so ugly ....)


2nd Attempt


The outlook of the cake getting better now. I steamed them in cupcakes sizes, so the cooking time is shorten.

Here's the modification of my

Pandan Steamed Cake.

Or you might like to try

Dragon Fruit Steamed Cake

Ingredients


[A]


2 eggs
100g sugar



[B]


1tsp ovalette
1tsp pandan essence



[C]


150g flour
100-120ml pandan juice



Method


Beat [A] , add in [B] and continue beat until "creamy stiff". When you lift the mixer, the egg mixture should not fall
Fold in flour and pandan juice Alternately
Steamed high for 15 min



Note


If using coconut milk, use diluted coconut milk . Otherwise the cake will be fluffy but a little dense